Autowatch Ghost II Immobiliser
Autowatch GHOST II Immobiliser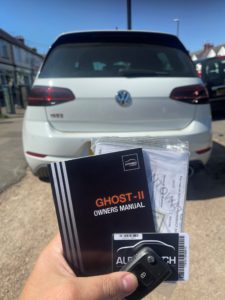 THE NEXT GENERATION OF VEHICLE SECURITY
Special Online offer £449.99  – Normal Price is £500
This is for the Latest GHOST II Immobilser supplied and installed by our TASSA Approved Installers, QR Finger Print stickers. All these stickers are registered with Autowatch and Tassa. They are hidden within different areas on the vehicle such as trim panels and body work. This is an extra level of protection incase your vehicle is broken for parts for example. All the stickers installed are linked to the International security register, this means in the event of a part removed and sold on the black market being scanned by a QR scanner it can instantly be linked to the original owner giving a very high level of security.
Once purchased online we will contact you to arrange installation at our workshop @ 42-44 Wallace Rd, Radford Covenrty CV6 2LX

The Autowatch Ghost 2 is extremely small and hidden within your vehicles wiring loom and once concealed it is completely invisible. When entering your vehicle you are required to enter a user defined pin number to disarm the Autowatch Ghost 2 system and allow you to start your vehicle, this is done by using various buttons on your dashboard or steering wheel in a particular sequence. Without knowing this unique code the vehicle simply will not start.
Latest Ghost Version Start / stop compatible.
Ability to turn off start / stop technology on some vehicles.
Ability to activate auto locking when driving away on some vehicles.
iPhone & Android compatible. ( App needs to be downloaded from the app store )
Secure override if required.
Even if a key is cloned vehicle won't start.
Can't be found.
Engine Start Blocking
Undetectable using diagnostics
No Radio Frequency Signals
Silent Operation
Prevents Key Cloning and ECU Swapping
Waterproof
Valet and Service Mode ( Used when your getting your vehicle serviced. )
GHOST II can be insatalled onto most modern vehicles including
Audi
BMW
Ford
Nissan
Toyota
Mitsubishi
Kia
Land Rover
Jaguar
Range Rover
Porsche
Mercedes
VW
For more information please go to  https://www.eydens.co.uk/autowatch-ghost-ii/ or call 02476 332524